Nothing becomes obsolete faster than progress. An idea fizzles in development departments for years, enjoys only a few minutes of fame, and then becomes a no-brainer. Or even just an anecdote that makes others laugh in vain in retrospect. So it's up to us to finally give it our due: the external tank cap. Yes, yes, exactly that.
After all, only six decades ago Beetle drivers crawled under the front hatch with the pump gun to open and fill the tank there – a business that rarely went along without spraying fuel into the luggage or at least the spare wheel. When the Kadett A was launched in June 1962, Opel hailed its external fuel filler cap as a major innovation. It's certainly a discreet hint for traditional connoisseurs like you and us that Opel is sending us an Astra with two external fuel filler caps for testing.
Opel Astra: 180 hp plug-in hybrid
The 180 hp drive trio of 1.6-litre turbocharged gasoline direct injection engine, 81 kW permanent magnet synchronous electric motor and eight-speed automatic transmission is taken over from Opel colleagues from Stellantis, as well as all the technical equipment. It is part of the EMP2 group platform, which in its Evo variant can accommodate all drive versions, from diesel to petrol and from plug-in to electric motor. Of course, standardization is not limited to the drive. It extends beyond the chassis, safety, lighting and assistance systems to the driving structure. With more than 20 EMP2-based models in the Stellantis clan: can Opel give another its own character – even taking into account the platform variance, which allows for four track widths, five wheelbases, two cockpit and two rear axle architectures? Yes you can. And this is not only, but also thanks to:
The return of the cheese corner
Despite the platform stipulations, the Astra L looks more distinctive than its F, G, H, J and K predecessors (they omitted the I to avoid confusion with the 1, really!). That's down to the new grille and small details: the C-pillars cover those lovely ribbed triangular panels, which were last seen on the Kadett E – known and loved as 'cheese wedges'. The ventilation grille at the front left takes up the style of those of the Rekord E, small reminiscences which delight connoisseurs without Opel exaggerating with folklore.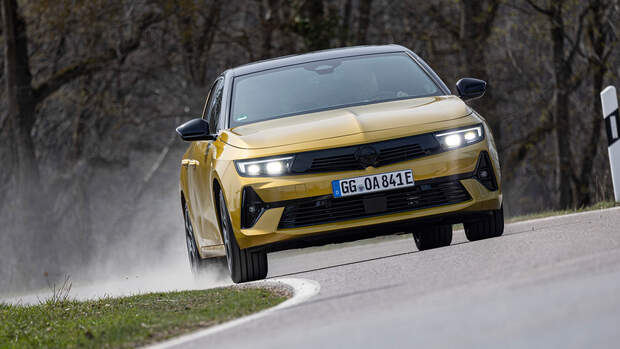 The Astra doesn't overdo it when it comes to dimensions either. Only 0.3 cm longer than before, with a length of 4.37 m, it retains a compact format – also inside. Unlike the Skoda Octavia, which tends to be too wordy when it comes to space, the Astra creates space that's neither restrictive nor spoiled, but – as the compact concept actually envisions – is good enough for four and about enough for five. The fact that the luggage can get tight is due to the 12.4 kWh lithium-ion battery. The besieged about 70 liters of what otherwise remains as a basement under the loading floor. In addition, the box with the universal cable (720 euros, for charging with 230 V household current and 400 V high-voltage current as well as wall boxes) is lying around in the trunk. Well, if it's too tight, we advise you to buy the Sports Tourer, the additional 1100 euros for the station wagon no longer matter given the majesty of the purchase price of 40,330 euros (minus 7178 euros of purchase bonus).
The Astra GS Line test car, rigged with all kinds of extras, even reaches a sum of almost 46,000 euros. Matrix light with 84 LEDs per headlight is one of the most illuminating options. But the Astra brings the highest qualities without expensive frills (tricolor aluminum, Alcantara upholstery or electric seat adjustment) in the current basic Elegance for 26,650 euros.
Better service than in Golf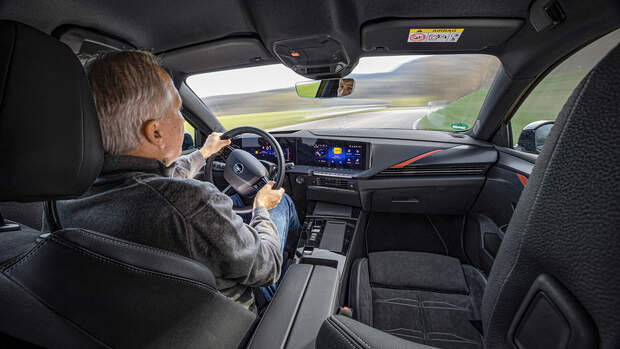 About the operation: It is based on the newly sorted structure, which also uses the Peugeot 308. In the past, we would have teased that everything still works easily and intuitively – except for small details, such as deactivating the head-up display. Today, after two years of experience with the operational drama of the VW Golf and its corporate affiliations, it seems appropriate to us to salute the structure and reliability of the Opel system, which starts quickly, without delay and is easy to grasp, with a clever mix of direct keys and touch menus.
A live animation of driving activity can also be swiped across the touchscreen. In pure electric mode, one battery charge is enough for 57 km. If you plug the plug-in into a 22kW wallbox with an optional 7.4kW on-board charger ($500), the battery fully charges in just under two and a quarter hours.
Efficiency works differently
The power of the 81 kW electric motor alone gives the Astra a craving that reaches up to 135 km/h and thus beyond pure city jaunts. The gasoline engine only kicks in when there is an intensive need for power. Going back and forth, starting and stopping workouts is smooth – also thanks to the automatic, which selects so nimbly and yet unobtrusively among its eight levels that you don't even think in sports mode that you have to play with it change the pallets yourself. Finally, the temperament reaches a vehemence, more hasty than that of the Kadett E GSi 16V, which is glorified to this day as the craziest compact Opel – built from 1987 to '91, 1039 kg, 150 hp, it went from zero to a hundred in eight and up to twenty. Instead of a GSi/OPC, the plug-in will remain for now, soon also with 225 hp, the most powerful Astra.
When the battery is empty, the E-Werk boosts the turbo petrol engine with what it recovers through recuperation. However, the Astra then no longer drives very efficiently. With 7.2 l/100 km in pure hybrid operation, it consumed exactly the same amount under test as its non-hybrid predecessor with a 1.4-liter turbo petrol engine and 145 hp. A VW Golf GTE – 60 hp/80 Nm more powerful than the Astra PHEV – 6.7 l/100 km is enough for the test.
The Astra blunders under braking, gets excited at the wheel
Recovery is successful in drive B mode with a fixed deceleration that almost approaches that of a single-pedal mode. It works nicer and more reliably than trying to control the "D" pickup via the brakes. The brake pedal is hard to dose – you mean stepping on a bag of gummy bears (although that comparison probably assumes the experience of four kids, for everyone: it's like stepping on a ball bouncing). But the brakes can not only be dosed incorrectly, but also delay, well, too hesitantly. From 130 km/h, the Astra with a cold system is only after 64.8 m. Again, the predecessor Astra for comparison: it only needs 59.2 m.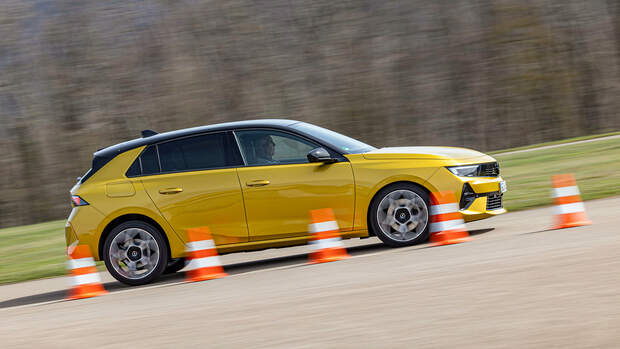 But he's also good at other things – when driving, and that with conventional MacPhersons up front and now without Watt's linkage on the twist-beam rear axle. It was standard on the Astra J, and extra on the K for 250 euros (code GNG – has anyone ordered it yet?). Already due to the tight 1652 kg curb weight in the basic configuration, the Astra rolls hard over short, unpleasant bumps, reacts more sensitively to small edges, has long waves and well-controlled body movements.
Doesn't sound so exciting now, do you? Exactly; and so much the better. It might take eight or nine turns before you realize that the Astra is not just about reliability and high levels of safety, it's also about fun. Because if you increase the tempo, it follows you easily. Even then, handling remains above all reliable. However, the steering precision and feedback never reach a finger-tingling intensity. But handling achieves relaxed dynamics, snappy smoothness and – like the entire Astra – its own harmonious character.
As a plug-in, it may not yet reach the solitary pinnacle of its class. But Opel has not been more outspoken than today for a long time. Plus, the Astra is so clearly the best Opel in the lineup that they could easily rename it after 31 years. Back as a cadet? No – and oh, let's risk a big flip: from Astra to A-Star.
survey
A superb car with a chic design that finally becomes a real golf opponent again.
A step in the right direction – but too small to catch up.


Read more
Advantages and disadvantages
body
With a truly compact size, enough space for four/five
Solid construction and good quality of materials
Despite the wealth of functions, it is easy to use
Decent panoramic view
Due to the drive battery in the rear, the trunk is smaller but still sufficient
Variability of bad ideas
ride comfort
Despite tight base settings, overall well-balanced suspension comfort
Efficient air conditioning with pre-temperature control on the wall box
Comfortable ergonomic seats
conduct
E range suitable for daily use
Smooth cooperation between electric motor and combustion engine
Spirited driving performance
Well-tuned automatic
High hybrid fuel consumption
driving characteristics
Safe turn
Smooth steering
Pleasant agility
Security
Broad and efficient assistance
LED series, optional matrix
Stable braking distances from 130 km/h, but too long
Poorly controllable pedal
environment
Low consumption according to ams profile (battery full)
High consumption with empty battery in hybrid mode
Costs
Cheap maintenance, premium
The Astra is a big car, a real Opel in the best sense of the word, with enough space, competent assistance, good comfort and lively handling. But despite, not because of the expensive plug-in player.
Technical specifications
| | |
| --- | --- |
| | Opel Astra 1.6 DI Turbo PHEV Line GS |
| starting price | €40,330 |
| external dimensions | 4374x1860x1472mm |
| trunk volume | 352 to 1268L |
| displacement / engine | 1598 cc / 4 cylinders |
| performance | 110 kW / 150 hp at 6000 rpm |
| top speed | 225km/h |
| 0-100km/h | 7.4s |
| consumption | 1.1kWh/100km |
| test consumption | 7.2kWh/100km |
Show all technical data
.