In 2018, a V6 turbo compliant with current regulations was tested at Porsche. It's an engine for the museum. BMW, Alfa Romeo, Matra and Ferrari have also built Formula 1 engines that have never been raced. We return once again to forgotten training projects in Formula 1.
This engine will probably never be presented. It will disappear into an evidence room and serve as visual aids for future generations of engineers. The engine we are talking about was made by Porsche. It is a 1.6-liter mono-turbo V6 according to current Formula 1 regulations. The engine was already running on the test bench in 2018. The electrical components for this were already built. They come from the Le Mans experience. The power unit was supposed to end up at Red Bull, but when the diesel scandal also reached Porsche, the project fell asleep.
Porsche is not the only manufacturer to never show up to a race with its Formula 1 engine. Alfa Romeo has had the experience twice. In 1952, in complete secrecy, a twelve-cylinder boxer engine with a displacement of 2483 cc and 285 hp was developed, which was to be installed in the Formula 1 car for a four-wheel drive car. After the government refused to pay Alfa Romeo a development grant for its motorsport activities, the Milan-based group withdrew from Formula 1.
In the era of the turbo, Alfa Romeo first competed with a V8 turbo, which was above all noted for its great thirst. In 1987, under the direction of Gianni Tonti, an extremely compact and lightweight four-cylinder biturbo was developed which, according to the factory, should deliver 860 hp at 11,500 rpm. It was intended for Ligier. When Fiat boss Gianni Agnelli decided that only Ferrari should fly the flag in Formula 1, Alfa Romeo had to withdraw participation. Derogatory comments from René Arnoux on the engine after testing led to the breakdown. Ligier received severance pay and had to order a BMW customer engine from Megatron.
Matra's latest project
Maserati tried a 305hp V12 in 1957 to replace the straight-six engine in the 250F. After the brand faded out a year later, the engine first disappeared into the museum, but was unearthed nine years later for the three-litre formula. With an additional displacement of 498 cubic centimeters, it formed the basis of the twelve-cylinder Maserati, which served in the Cooper for two years. The 191-kilogram monster, which ran with a choice of two or three valves per cylinder, reached 390 hp by the end of its career.
Matra also developed a 1.5-liter six-cylinder for the turbo era. In December 1980, the green light was given for a V6 with a bank angle of 120 degrees, a bore of 80 millimeters and a stroke of 49.6 millimeters. During bench tests in 1982, the 144-kilogram engine with the abbreviation MS82 easily reached 650 hp. Up to 805 hp were planned. At the end of 1982, the house of cards collapsed. Peugeot, as a partner, refused the funding and left it to Matra's partner team, Ligier, to deal with its fate. He preferred to flee to Renault.
Ferrari switched to turbo engines in 1981. Initially, the Italians experimented with two versions. Brown Boveri's Comprex mechanical monocharger and KKK exhaust-driven twin turbines. In the end, the KKK's solution prevailed. The 540 hp V6 Comprex was only used for test drives.
VW only came to the drawing board with a planned VR8 turbo, which was to be installed transversely behind the cockpit and tank. The Ford V12 in the later era of naturally aspirated engines also remained a concept model. Michael Schumacher's world title in 1994 with a Ford V8 again put the project on hold.
F1 History: Exotic F1 Engines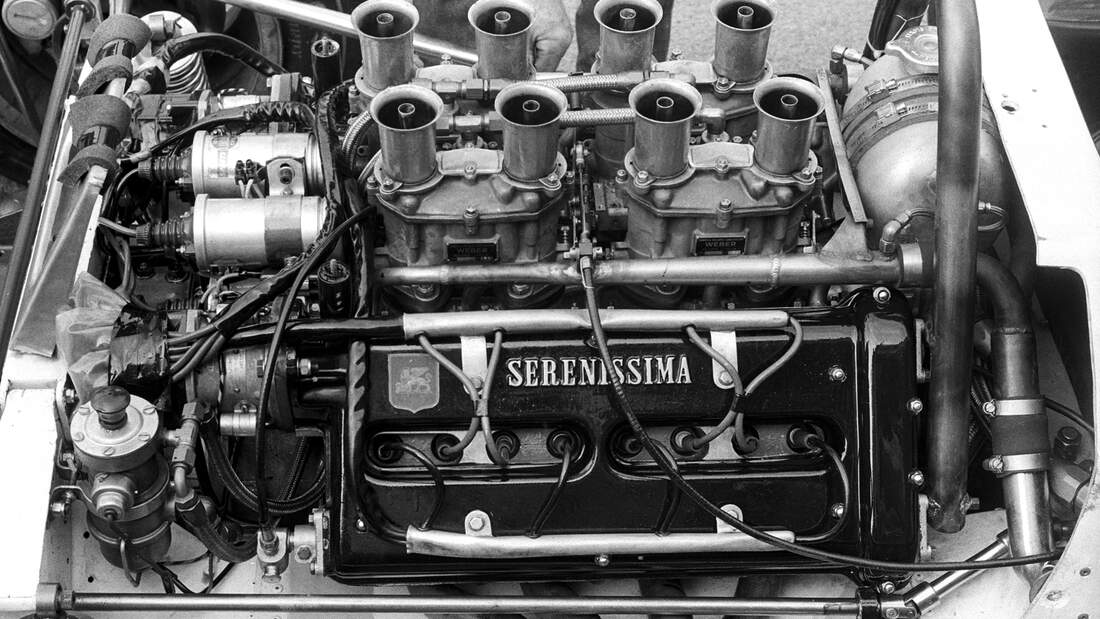 sutton-images.com

720 hp BMW V12 engines
BMW prepared its return to Formula 1 in 2000 with two twelve-cylinder engines. If finally a V10 was the last word of wisdom, Paul Rosche had two 3.5 liter V12s with four and five valves per cylinder built underground with a troop of 20 men for study purposes.
Engines with magnesium blocks, which are relatively short at 650 millimeters in length, were completed in 1991. There were five of each. Despite conventional valve springs and standard fuel, the test bench installed at Marine GmbH on a secret mission showed 720 hp at 14,000 rpm.
In addition to well-known manufacturers, there were also exotics. In 1990, Carlo Chiti convinced Subaru to develop a twelve-cylinder engine, but couldn't find a team initially because the 180-degree engine was 74 centimeters wide. In the end, two hopeless people joined forces. Coloni planted the monster. The Coloni-Subaru never qualified. The engine was rated at 600 hp. 80 hp less than a Cosworth DFR.
Equally futile was former Ferrari engineer Franco Rocchi's attempt to make history with the first W engine in Formula 1. The three banks of four cylinders faced each other at a 60 degree angle. With dimensions of 578 x 595 x 483 the engine was nice and compact, the only thing missing was power. Rocchi declared 550 hp. In fact, it should have been 400 hp. The Life racing team abandoned the experiment midway through the 1990 season and switched to a Judd V8.
The end of the brave
The Nègre, Neotech and Heidegger engines have never known a circuit. McLaren also stopped in Liechtenstein in search of an engine partner capable of building a turbo engine. Swiss engine builder Max Heidegger had built a supercharged straight-six engine himself. Nice and narrow, just as McLaren's chief designer John Barnard wanted. The project failed because McLaren found a better solution with Porsche.
Guy Nègre was a French engine inventor who wanted to bring a completely new concept to Formula 1 in 1990. The twelve cylinders were arranged in a W and the engine had no valves. Sliding barrel valves performed the gas exchange. Supposedly, the first attempts had resulted in a power of 500 hp.
Austria's Neotech project was a bit more serious. On behalf of the brothers Harald and Manfred Pehr, Rolf-Peter Marlow had developed a V12 with a bank angle of 70 degrees and a central drive that was ready for the test bench. Former BMW race director Dieter Stappert accompanied his classmates on their mission. Three motors were built, funded by wind turbine manufacturer Villas-Styria. Walter Brun wanted to use the 650 hp engine in both the sports car and his Formula 1 cars. But the necessary sponsors for this were not there.
.