Are you ready for a touch of spring on your plate? Are you ready for the ultimate taste explosion? So here's what you need: the strawberry and arugula fitness salad! It's finally the return of the strawberry, and this delicious and healthy fruit not only goes wonderfully with cakes and pastries, but also with a refined salad. It meets the fruity-sweet on the spicy arugula. Try it.
Read also: Baked cauliflower is awesome: this recipe makes it really crispy >>
Strawberry Arugula Fitness Salad Ingredients
You need: 200 grams of arugula, 100 grams of strawberries, 6 tablespoons of olive oil, 3 tablespoons of balsamic cream, salt, pepper, pine nuts
Also read: Traditional Königsberger Klopse: Grandma's recipe for true connoisseurs! >>
This is how the fitness salad with strawberries and arugula is prepared
This is how it's done: For the vinaigrette, mix the salt and pepper with the balsamic vinegar cream. Add the olive oil and mix well with a whisk.
Carefully wash the arugula and spin it with the salad spinner. Cut the stems. Cut into bite-sized pieces.
Thoroughly wash the strawberries, remove the green. Quarter or eighth (pieces) strawberries, depending on their size. Marinate the strawberries in the vinaigrette and set aside for a moment.
Heat a skillet without fat. Roast the pine nuts in it until golden brown. Tip: Keep an eye on the pine nuts as they roast – they burn quickly.
In a bowl, mix the marinated strawberries with the arugula. Arrange on two plates and garnish with toasted pine nuts. Enjoy your lunch!
Also Read: Brilliant BBQ Recipe: Do You Know The Seven Cup Salad? There are so many delicious things about this recipe – and it's so quick to make >>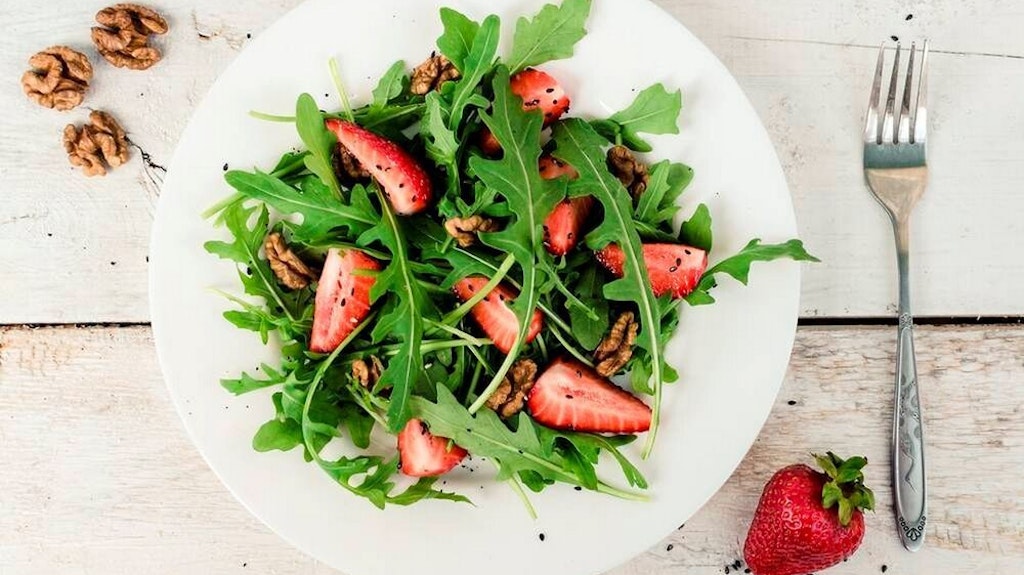 To read also: Super fast, super spicy, super good: With THIS recipe, the penne al arrabiata are a guaranteed success! >>
Why is arugula so healthy?
Arugula contains many valuable ingredients and is a good source of iron, calcium and potassium, vitamin C and vitamin A. Mustard oils responsible for the slightly pungent taste are among the secondary plant substances. They have many health benefits, including as antioxidants and anti-cancer.
.