The Porsche Panamera Sport Turismo 4S with V6 Turbo at 124,440 euros comes to consumption control.
Is the Panamera really a real Porsche? Automakers from Zuffenhausen often have to listen to this question – and since the Porsche Panamera Sport Turismo 4S is available as an all-wheel-drive station wagon variant, those voices haven't gotten any quieter. Given that the sports car maker has long sold most of its vehicles in the SUV segment, Porsche risks being magnanimous in ignoring the heretical question.
A question that may be much more pressing is: what about the consumption and costs of a car which, with its three-litre V6 and 440 hp, does the zero cent sprint in 4.4 seconds? We tested the Porsche Panamera Sport Turismo 4S, measured and calculated what the station wagon consumes and costs on a daily basis.
Our consumption test
Porsche specifies a WLTP standard consumption of eleven liters Super Plus for the Porsche Panamera Sport Turismo 4S. In everyday life, the Porsche doesn't stray too far from it; we have determined an average consumption of 11.2 liters, which leads to fuel costs of 21.72 euros per 100 kilometers. The Panamera consumes only 8.7 liters on the eco-tour, while consuming 11.1 liters on the commuter route. If the Porsche is moved sportily, the consumption increases to 14.2 liters. The fuel costs are calculated using the daily updated fuel price on our partner portal mehr-tanken.de (July 4, 2022 / Super plus: 1,939 euros/litre).
Monthly maintenance costs
If you drive as resource-efficient as we do on our eco-tour, the fuel costs for 100 kilometers drop to 16.87 euros. A rather violent gait and a sporty driving style result in a sum of 27.53 euros, in suburban operation we have determined costs of 21.52 euros for the distance of 100 kilometers. Vehicle tax costs 556 euros per year for the Porsche, liability insurance according to Allianz Direct 414 euros. Partial insurance and full casco amount respectively to 215 and 1,264 euros. A monthly maintenance fee of 551 euros is paid by those who drive the Porsche Panamera Sport Turismo 4S 15,000 kilometers per year. If the mileage is doubled, the sum increases to 1,026 euros. We omit impairment in this calculation.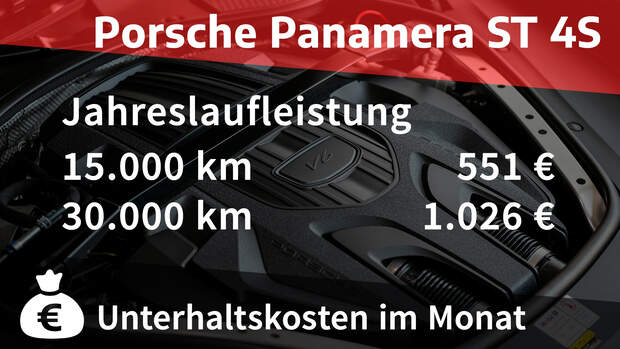 That's how it's tested
The consumption of the auto motor und sport test consists of three differently weighted consumption cycles. The so-called "commuter consumption" accounts for 70%. This is a home-to-work journey of an average of 21 kilometres. A particularly economical ecological tour of approximately 275 kilometers in length is included in the bill with 15%. The remaining 15% is represented by the sports driver's lap. The length is about the same as the Eco tour, but the route includes a greater proportion of motorway and therefore higher speeds on average. The basis for calculating the fuel costs is always the price indicated on the "refuel" portal on the day the article was created.
Monthly maintenance costs include maintenance, wear parts costs and vehicle taxes based on an assumed annual mileage of 15,000 and 30,000 kilometers without loss of value. The calculation is based on test consumption, a holding period of three years, insurance costs with no-claims class SF12 for third party liability and comprehensive insurance with Allianz, including reductions for mechanics and the restriction to certain drivers (no less than 21 years old). At Allianz, SF12 offers a discount rate of 34% for civil liability and 28% for comprehensive insurance.
Review of the Porsche Panamera 4S E-Hybrid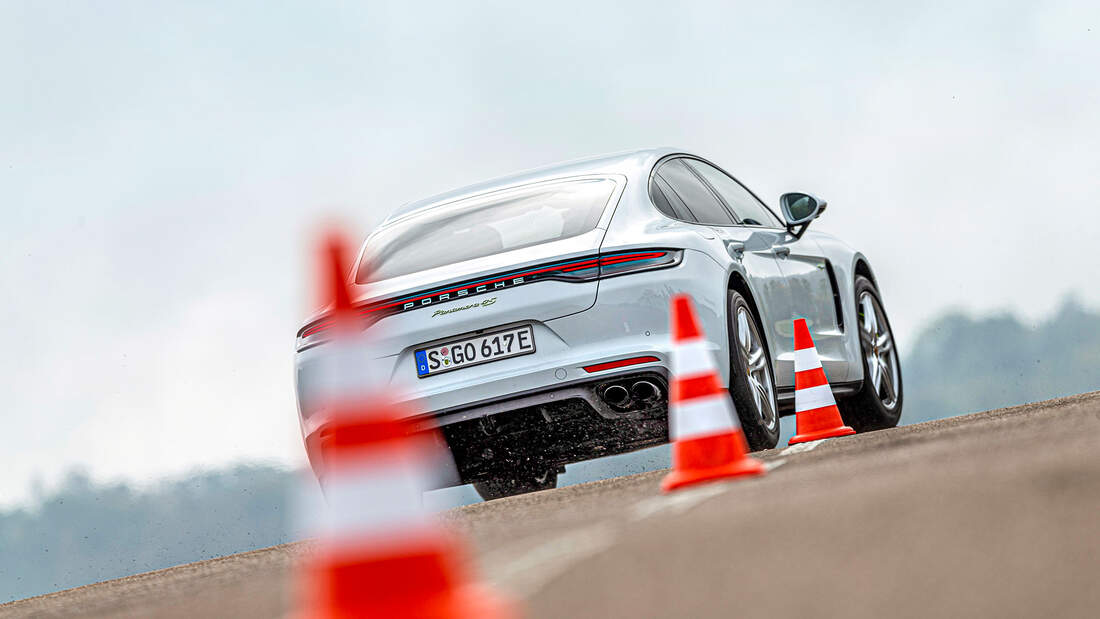 Achim Hartman

Conclusion
In the consumption of automotive and sports tests, the 124,440 euro Porsche Panamera Sport Turismo 4S with 440 hp ended up with an average value of 11.2 liters Super Plus per 100 kilometers. The fuel costs for this distance are therefore 21.72 euros. The monthly maintenance costs are 551 euros (15,000 km annually) or 1,026 euros (30,000 km annually).
Technical specifications
| | |
| --- | --- |
| | Porsche Panamera Sport Turismo 4S S |
| starting price | €124,440 |
| external dimensions | 5049x1937x1428mm |
| trunk volume | 515 to 1384L |
| displacement / engine | 2894 cc / 6 cylinder |
| performance | 324 kW / 440 hp at 5650 rpm |
| top speed | 289km/h |
| 0-100km/h | 4.4s |
| consumption | 9.1L/100km |
| test consumption | 11.2L/100km |
Show all technical data
.