The Land Rover Discovery Sport P300e SE, which costs 61,946 euros, is ready for a consumption assessment.
Carl Nowak, Marcel Sommer
30/10/2022
Hit the start button, Land Rover's digital instrument cluster lights up, touch EV mode on the drive mode keypad and suddenly the 1500cc turbocharged three-cylinder speaks. Very distinguished and well isolated, but at a time when he didn't even have a voice. The Land Rover refused purely electric mode several times during the test. Although the acceleration in E mode fades quickly, it is quite sufficient for urban use and no reason to start the combustion engine. The range of 63 kilometers is also decent, and the Land Rover is particularly strong in promoting electric driving thanks to its DC charging option (32kW, 0-80% in 30 minutes). As for AC charging, which is relevant to the review, it can't make full use of its 7kW on-board charger and charges its 15kWh battery for longer than Land Rover promised at just over three hours. And what about fuel, electricity and maintenance costs?
you
our consumption test
Land Rover announces the Discovery Sport P300e SE a WLTP consumption of 1.7 liters Super and 19.7 kWh per 100 kilometers. He moves away from this value in everyday life. We have determined an average consumption of 2.4 liters and 16.7 kWh, which results in costs of 10.91 euros per 100 kilometres. The Land Rover consumed 7.9 liters on the Eco ride, while consuming 9.4 liters on the Commuter route. If the Land Rover was sportily moved, the consumption increased to 12.5 liters. The hybrid average consumption is 9.6 liters. On the purely electric lathe, the power consumption was 22.3 kWh. Fuel costs are calculated using the daily updated fuel price on our partner portal mehr-tanken (18.10.2022 / Super: 1.95 euros/litre). The electricity costs are calculated on the basis of the average electricity price for households according to the federal association BDEW of the energy and water industries eV (average electricity price for a household with a annual consumption of 3,500 kWh: €0.3730/kWh. base price included on a pro rata basis, tariff products included, and base service rates including new customer rates, not weighted by volume). The price of electricity at a public charging station is usually higher.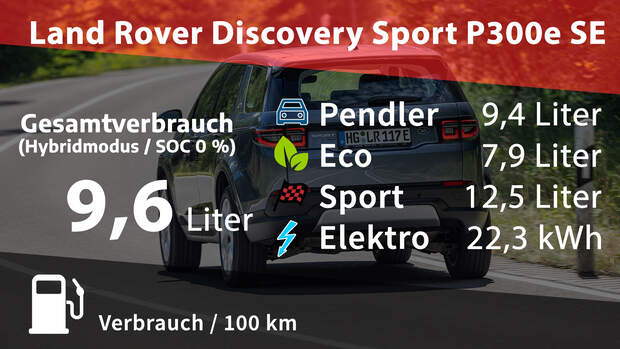 Monthly maintenance costs
If you drive as resource-efficient as we do on our eco-tour, the costs for 100 kilometers are reduced to 15.41 euros. The rather violent approach resulted in a sum of 24.38 euros. The costs in hybrid operation amount to 18.72 euros. Electricity costs of 8.32 euros are incurred on the purely electric route. Vehicle tax is zero euros for the Land Rover, liability insurance 551 euros. Partial and full insurance costs an additional 138 and 552 euros respectively. A monthly maintenance fee of 277 euros is paid by those who drive the Land Rover 15,000 kilometers per year. If the mileage is doubled, the sum increases to 590 euros. We omit impairment in this calculation.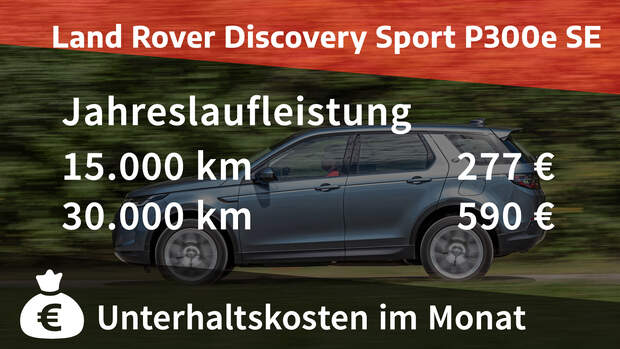 That's how it's tested
Automotive and sports test consumption for plug-in hybrids consists of three differently weighted fuel consumptions driven in hybrid mode. The so-called "commuter consumption" accounts for 70%. This is a commute of an average of 21 kilometers (from an empty battery). A particularly economical ecological tour of around 275 kilometers in length (start with an empty battery) counts for 15%. The remaining 15% is represented by the sports driver's lap. The length is about the same as the eco-tour, but the route includes a greater proportion of motorway and therefore higher speeds on average. An extra is the pure E turn. It indicates the maximum range in kilometers with a fully charged battery before starting the combustion engine. The consumption is calculated from the measured energy consumption, including pressure drops. The charging time for a full battery charge and the amount of energy in the battery, including load losses, are also measured. The basis for calculating fuel costs is always the price listed on the "more tanken" portal on the day the article was created.
Monthly maintenance costs include maintenance, wear parts costs and vehicle taxes based on an assumed annual mileage of 15,000 and 30,000 kilometers without loss of value. The calculation basis is the test consumption, a holding period of three years, the no-claims class SF12 for third-party liability and all-risk insurance with Allianz, including reductions for mechanics and the restriction on certain drivers (no younger than 21). At Allianz, SF12 offers a discount rate of 34% for civil liability and 28% for comprehensive insurance.
survey
Read more

Conclusion
In the automotive and sports consumption test, the 61,946 euro Land Rover Discovery Sport P300e SE with system performance of 309 hp ended up with an average value of 2.4 liters Super and 16.7 kWh per 100 kilometers. This means that the combined fuel and electricity costs over this distance are 10.91 euros. The monthly maintenance costs are 277 euros (15,000 km annually) or 590 euros (30,000 km annually).
Technical specifications
| | |
| --- | --- |
| | Land Rover Discovery Sport P300e AWD SE |
| starting price | €60,770 |
| external dimensions | 4597x1904x1727mm |
| trunk volume | 602 to 1794 liters |
| displacement / engine | 1498 cc / 3 cylinders |
| performance | 147 kW / 200 hp at 5500 rpm |
| top speed | 209km/h |
| 0-100km/h | 7.1s |
| consumption | 2.0L/100km |
| test consumption | 9.6L/100km |
Show all technical data
.