How cheap and economical can a premium 245hp gas-powered four-door be? We tested it at chic Munich and checked it out.
"With its nimble chassis, good steering and powerful, fuel-efficient engine, the 430i Gran Coupé scores more points in almost every chapter than the braver Opel." According to author Heinrich Lingner, evaluated strictly on characteristics, the BMW came out on top in a comparison test with the Opel Insignia GSi Grand Sport. But what is the level of consumption of the Munich resident – ​​and how much does it cost on a daily basis?
Our consumption test
The four-door coupé was not able to reproduce its standard WLTP consumption of 7.4 liters per 100 kilometers during the test. Instead, it is 8.2 liters, which means fuel costs of 16.23 euros for this distance. Anyone who reaches our eco-consumption of 6.1 liters drives significantly cheaper and only has to fill up with petrol worth 12.07 euros for the same distance. If, on the other hand, the two-litre four-cylinder turbo petrol engine is pushed to its limits more often, consumption rises to 10.6 litres. At the same time, fuel costs jump to 20.98 euros. These are calculated using the daily updated fuel price on our partner portal mehr-tanken.de (04.04.2022 / Super: 1,979 euros/litre).
Monthly maintenance costs
The vehicle tax for the BMW 430i Gran Coupé with M-Sport equipment is 220 euros per year. According to Allianz Direct, liability insurance costs 403 euros for the same period. A partial casco policy costs an additional 258 euros, while a full upgrade costs an additional 944 euros. If you include all cost elements in the calculation, the total monthly cost for the Bavarian is 326 euros if he drives 15,000 kilometers per year. If the mileage doubles, the sum increases to 582 euros. Impairment does not play a role in this sample calculation.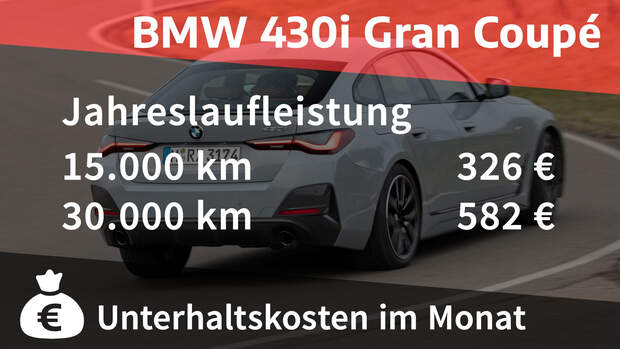 That's how it's tested
The consumption of the auto motor und sport test consists of three differently weighted consumption cycles. The so-called "commuter consumption" accounts for 70%. This is a home-to-work journey of an average of 21 kilometres. A particularly economical ecological tour of approximately 275 kilometers in length is included in the bill with 15%. The remaining 15% is represented by the sports driver's lap. The length is about the same as the Eco tour, but the route includes a greater proportion of motorway and therefore higher speeds on average. The basis for calculating fuel costs is always the price listed on the "more tanken" portal on the day the article was created.
Monthly maintenance costs include maintenance, wear parts costs and vehicle taxes based on an assumed annual mileage of 15,000 and 30,000 kilometers without loss of value. The calculation is based on test consumption, a three-year holding period, SF12 no-claims class for liability and comprehensive insurance with Allianz Direct, including garage discounts and the restriction to certain drivers (without accident/15,000 km per year/living in the area of ​​postcode 70174/not under 21 years old/partner driver over 25 years old).
Conclusion
The BMW 430i Gran Coupé M Sport with 2.0-liter four-cylinder turbo petrol engine developing 245 hp costs at least 57,800 euros and consumes an average of 8.2 liters, which means fuel costs of 16.23 euros per 100 kilometers. The monthly maintenance costs are 326 euros with an annual mileage of 15,000 kilometers. If this increases to 30,000 kilometres, the sum increases to 582 euros.
Technical specifications
| | |
| --- | --- |
| | BMW 430i Gran Coupé M Sport |
| starting price | €57,800 |
| external dimensions | 4783x1852x1442mm |
| trunk volume | 470 to 1290L |
| displacement / engine | 1998 cc / 4 cylinder |
| performance | 180 kW / 245 hp at 4500 rpm |
| top speed | 250km/h |
| 0-100km/h | 5.9s |
| consumption | 6.2L/100km |
| test consumption | 8.2L/100km |
Show all technical data
.