For the Ford Kuga 2.5 FHEV with a displacement of 2.5 liters, Ford uses a large gasoline engine from the United States, which operates on the Atkinson cycle, with the support of a continuously variable CVT transmission. No supercharging therefore, but a relatively low torque four-cylinder (152 hp, 200 Nm), which likes to make noise under load. To avoid this, Ford relies on the additional thrust of an electric motor with a power of 92 kilowatts. It sounds promising, but in practice it only half works. In the city, it is still quiet, since it is mainly purely electric, but the drive quickly encounters problems when driving at high speeds. The low-combustion engine has to run constantly, while the CVT transmission frantically changes the gear ratio even at low load and the four-cylinder complains loudly accordingly. Simulated shift stages, which the driver cannot even access via the shift paddles, with noticeable fluctuations in traction do not improve it.
Despite all the effort, the driving performance isn't exactly fast either: the 1.6-tonne SUV only reaches 100 km/h after 9.2 seconds. After 14.6 seconds, the boring digital instruments display 130 km/h. Driving is not convincing, inviting us instead to simply try the 1.5 EcoBoost (150 hp) with manual gearbox. And what about fuel and maintenance costs?
Our consumption test
Ford gives for it Kuga 2.5 FHEV Vignale has a WLTP consumption of 5.7 Super liters per 100 kilometers. He moves away from this value in everyday life. We have determined an average consumption of 6.9 liters, which leads to fuel costs of 12.77 euros per 100 kilometers. On the Eco ride, the Ford consumed 5.6 liters while consuming 6.6 liters on the Commuter route. If the Ford was sportily moved, the consumption increased to 9.7 liters. Fuel costs are calculated using the daily updated fuel price on our partner portal mehr-tanken (November 14, 2022 / Super: 1.85 euros/litre).
Monthly maintenance costs
If you drive as resource-efficient as we do on our eco-tour, the fuel costs for 100 kilometers are reduced to 10.36 euros. The rather violent approach results in a total of 17.95 euros. Vehicle tax costs 127 euros per year for the Ford, liability insurance is 407 euros. Partial and full insurance cost an additional 146 and 564 euros respectively. A monthly maintenance fee of 342 euros is paid by those who drive the Ford 15,000 kilometers per year. If the mileage is doubled, the sum increases to 595 euros. We omit impairment in this calculation.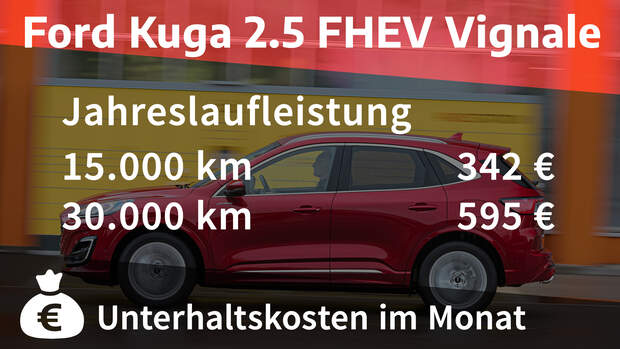 That's how it's tested
The consumption of the auto motor und sport test consists of three differently weighted consumption cycles. The so-called "commuter consumption" accounts for 70%. This is a home-to-work journey of an average of 21 kilometres. A particularly economical ecological tour of approximately 275 kilometers in length is included in the bill with 15%. The remaining 15% is represented by the sports driver's lap. The length is about the same as the eco-tour, but the route includes a greater proportion of motorway and therefore higher speeds on average. The basis for calculating fuel costs is always the price listed on the "more tanken" portal on the day the article was created.
Monthly maintenance costs include maintenance, wear parts costs and vehicle taxes based on an assumed annual mileage of 15,000 and 30,000 kilometers without loss of value. The calculation basis is the test consumption, a holding period of three years, the no-claims class SF12 for third-party liability and all-risk insurance with Allianz, including reductions for mechanics and the restriction on certain drivers (no younger than 21). At Allianz, SF12 offers a discount rate of 34% for civil liability and 28% for comprehensive insurance.
Conclusion
In the automotive and sports consumption test, the 46,100 euro Ford Kuga 2.5 FHEV Vignale with 190 hp system ended up with an average value of 6.9 Super liters per 100 kilometers. This means that the fuel costs for this distance are 12.77 euros. The monthly maintenance costs are 342 euros (15,000 km annually) or 595 euros (30,000 km annually).
Technical specifications
| | |
| --- | --- |
| | Ford Kuga 2.5 FHEV Vignale |
| starting price | €45,400 |
| external dimensions | 4629x1883x1680mm |
| trunk volume | 405 to 1481 liters |
| displacement / engine | 2488 cc / 4 cylinder |
| performance | 112 kW / 152 hp at 5000 rpm |
| top speed | 196 km/h |
| 0-100km/h | 9.2s |
| consumption | 5.1L/100km |
| test consumption | 6.9L/100km |
Show all technical data
.