Prince Andrew has long since renounced his royal duties.Image: WPA Pool/Getty Images
Since the announcement of the resignation of Harry and Meghan, Duke and Duchess of Sussex from service to the British monarchy as "Senior Royals", there has been a real mud fight. The two's TV appearance on American talk queen Oprah Winfrey is considered the culmination of the media drama. The Queen spoke in a personal statement and addressed the allegations the couple made during a chat with Oprah Winfrey.
Queen Elizabeth has recently made unwanted headlines herself. According to information from the palace, it should be shorter in the future. Her private secretary, Sir Edward Young, has come under heavy internal criticism for the 'reckless' tight schedule of Queen's appointments. More recently, the British head of state even spent a night in the hospital.
In our news blog you can find out what else is going on with the royal family. You can find our previous blog on the royal family here.
November 8
Hearing in the context of the abuse procedure in early January
A few months ago, it became known that a civil lawsuit alleging sexual abuse had been filed against Prince Andrew in the United States. Alleged victim Virginia Giuffre said she was sexually assaulted by the Queen's son more than 20 years ago. She named Jeffrey Epstein's New York home, Epstein confidante Ghislaine Maxwell's home in London and Epstein's private island in the Caribbean as crime scenes.
The lawsuit states that she was forced to have sex with the prince against her will. The royal has denied the allegations, saying in a BBC interview two years ago that he did not recall meeting her. After that, the royal stepped down from his royal duties.
It is now known that in the abuse scandal surrounding the 61-year-old, a New York judge has set January 4 as the date for a defense hearing. This means that on that day the court will hear the defendant's arguments to dismiss the case. This was reported, among others, by the "Daily Mail".
Andrew's lawyers have already strongly denied the allegations. They accuse Giuffre of wanting to get rich from the trial. However, according to the press report, the judge said that if the 61-year-old's claim is denied, the civil trial will begin between September and December 2022.
November 6
Kate Middletons and her lifestyle: The family spends 40,000 euros a year just for food
In interviews, Duchess Kate repeatedly reveals how important a healthy lifestyle is to her. This not only includes a balanced diet with plenty of fresh fruits and vegetables, but also comprehensive beauty treatments and regular physical activity. This way of life is quite expensive: the Duchess of Cambridge would spend up to 60,000 euros a year for her health and that of her family.
Only the best ends up on the dining table of the royal family: seasonal fruits, fresh vegetables and a selection of varied ingredients. According to a report by "Gala" magazine, William and Kate spend a total of around 40,000 euros a year on shopping. And regular sport is also part of a healthy lifestyle for the family: The magazine "hello" reports that the whole family is registered with the tennis club – for everyone there is an annual membership fee in the total amount of €5,500. Until 2014, William and Kate were also enrolled in the gym, where they had to pay 400 euros per month per person. The two now use their own home gym.
Of course, extended beauty rituals should not be missing for Kate. According to 'Bonjour' magazine, the Duchess is scheduled to undergo monthly bee venom facial treatment. This alternative method to Botox costs almost 1000 euros per year. In addition, there are the costs of the hair salon, which Kate visits every six weeks. "Gala" writes that she spends 9,000 euros a year there.
November 5
Harry and Meghan receive help from the bishop
Harry and Meghan became parents for the second time on June 4 – they named their daughter Lilibet Diana Mountbatten-Windsor. The little one is now five months old and about to be baptized. Baptism plays an important role in royal children. Harry and Meghan's firstborn, Archie, was just two months old when he converted to Christianity. In the eyes of the royal family, Lilibet risks being late for her baptism.
According to various media, one of the reasons is that the former actress and her husband disagree on the framework in which the celebration should take place. During her trip to New York in September, the worst argument of her relationship even occurred: Meghan wanted Lilibet to be baptized in Britain in the presence of the royal family, Harry was uncomfortable because of the persistent differences between him and the royal family. He would have preferred a baptism in the United States.
Now a British clergyman, namely Paul Bayes, Bishop of Liverpool, has made a suggestion to Britain's 'Express' on how all parties involved could find a compromise. If they wish to hold the ceremony overseas, they could then plan a thanksgiving service for Lilibet in the UK. The royal family would also be involved in the celebrations.
Such a special service would be an opportunity to join friends and family in asking for God's blessing on the baby. "There are many different ways to do a thanksgiving service – it can be informal in a church and the baby can be blessed." Bayes said.
In any case, it is clear that Meghan and Harry must choose a place for the initial baptism, Lilibet cannot be baptized a second time. But Bayes stressed: "For someone like the Queen, who is a devout Christian, knowing that the baby has been baptized is at the heart of everything, whether in her presence or not."
November 4
'He feels snubbed': Queen doesn't mention Prince Harry in speech
Was that really the Queen's intention? The British monarch was not present in person at the world climate conference in Glasgow, but she delivered a speech at the climate summit via video link. In her speech, she praised her son Prince Charles and her grandson Prince William and their fight against climate change. She didn't mention her grandson Prince Harry at all.
In her video message, she let the leaders present know: "It makes me very proud that the leading role played by my husband in encouraging people to protect our fragile planet has been amplified thanks to the work of our eldest son Charles and of his eldest son Guillaume lives." The fact that she only named Prince Charles and Prince William should have affected Prince Harry, after all, he also regularly comments on environmental issues and is committed to climate protection.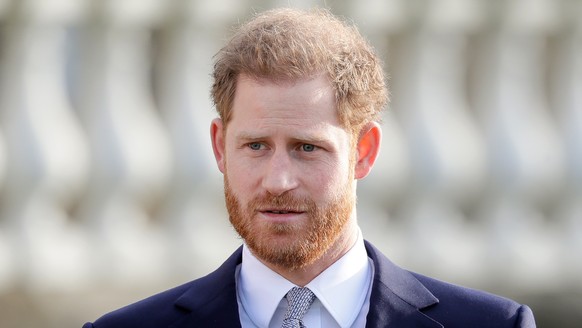 Prince Harry may feel offended.Image: dpa/Kirsty Wigglesworth
Royal expert and author Angela Levin also has this hypothesis. Compared to "OK!" British. she said, "I think he feels snubbed." At the same time, however, she added: she did not understand why he should have been mentioned. After all, he is no longer an active member of the royal family.
November 3
After blaspheming Meghan – her brother suddenly wants to apologize
Since Meghan and Harry are lovers, there have always been negative headlines about them, which were started by some of their family members. The former actress cut ties with her father after marrying Harry. This was preceded by a bitter argument over the publication of a personal letter from her. Markle then accused the couple of doing all their projects just for the money.
Thomas Markle Jr., Meghan's half-brother, shot the 40-year-old, especially in the new season of "Big Brother VIP". He announced in advance that he wanted to talk about her in front of the cameras. A trailer already showed how he said: "I said to Prince Harry, 'I think she's going to ruin your life. He also said she was very superficial. The two have not been in contact for years.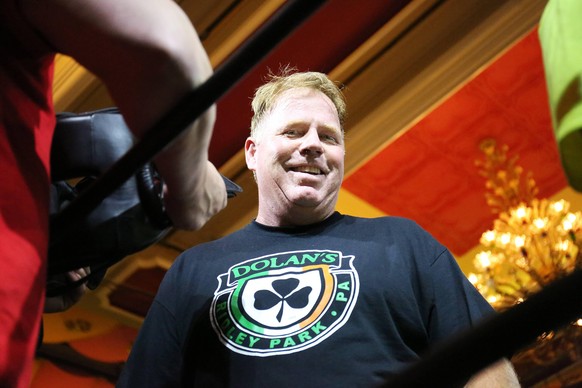 Here you can see Meghan's half-brother.Image: imago images/MediaPunch
Now, it almost seems like her brother is reconsidering some statement or other he made about Meghan. Regarding the "news idea", he has now said ahead of his public statements about his sister: "I made terrible mistakes". He hopes the mother-of-two sees him on the Australian reality show, adding: "That's why I'm doing this so she can see the real me."
He made terrible mistakes and still regrets them today, he said. He would love his sister and would do anything to meet his nephew Archie and his niece Lilibet, according to his brother. "I don't need a photo shoot to visit my sister and I don't want to make a story out of it," the 55-year-old said.
November 2
The Queen addresses the World Climate Conference
The Queen spoke at the 26th UN World Climate Conference in Glasgow, Scotland, with a video message. She called on government leaders to think of future generations in the fight against climate change. In her speech, she urged conference attendees to work together to "solve the most insurmountable problems." The 95-year-old stressed: "None of us will live forever." And further: "We are not doing this for ourselves, but for our children, our grandchildren and those who will come after them."
The Queen also recalled her husband, Prince Philip, who died a few months ago, and who warned of the dangers of climate change decades ago. She is particularly happy that her son Charles and grandson William are also engaged in environmental issues and said of herself: "I couldn't be more proud of them." She did not mention her grandson Harry, although he also commented on the subject several times.
Originally it was planned for the Queen to travel to Glasgow in person, but due to her health problems in recent weeks she has stayed at her home at Windsor Castle on the advice of her doctors.
Instead of the Queen, Charles and Camilla, along with William and Kate, traveled to Glasgow to represent the Royal Family. Official Instagram photos of the Duke and Duchess of Cambridge showed the royal couple chatting with Angela Merkel, US President Joe Biden and Canadian Prime Minister Justin Trudeau, among others.